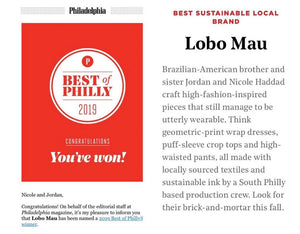 Every year, we explore new ways to be sustainable, because fast fashion is [relatively speaking; and hard to quantify this number] the 2nd largest polluter in the world. While a large percentage of our collections and stock are made from deadstock, we were still concerned with the amount of waste and scrap that traditional manufacturing techniques accrue. So we've been saving all fabric scraps from all textiles to make zero waste products. This year we rolled out neck ties, tufted rugs for home with
Tim Eads
, and are currently knitting our scraps into sweaters for the Fall/Winter 2019 collection. Let's demand transparency, accountability, and sustainability from the brands we support!
---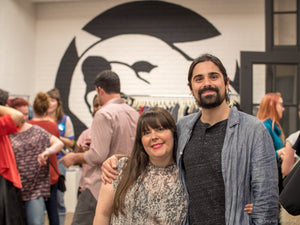 https://www.phillymag.com/business/2018/09/10/sustainable-business-philadelphia/ 6 Philly Businesses That Put Your Office's Sustainability Efforts to Shame Lobo Mau This brother and sister owned contemporary sportswear brand hopes to fight the fast fashion industry by producing quality, classically styled clothes with a modern twist that won't break down after just one trip through the washing machine. "We're the answer to fast fashion," Jordan Haddad, one of the co-owners, told Philly Mag. "We don't produce needless amounts of clothes." In order to keep their business sustainable, Jordan and his fashion designer sister and co-owner, Nicole, use locally sourced textiles and hire seamstresses with as much as...
---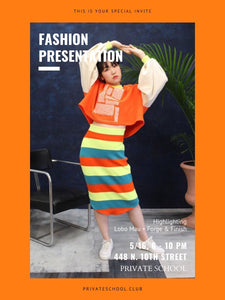 Come hang with Lobo Mau and Forge & Finish at Bela Shehu's Private School Experiment!